This past Saturday our students attended our Annual Halloween Party.  One of the emphases was Halloween Safety!  We want our students to be safe during this and every Halloween.
Halloween Safety takes on many forms.  From making sure that costumes have bright reflective portions to inspecting candy.  Parents, as our children grow older, we are involved less and less with our kids Halloween Safety.  Don't make the mistake of letting them prepare their own "dark" costume that can't be seen at night!  Light coloured costumes are best that can bee seen at night!  Make sure you check that all costumes keep your children's feet free from tripping.
HERE ARE A FEW MORE TIPS FOR HALLOWEEN SAFETY!
Use non-toxic/hypoallergenic face paints or makeup (better than masks).
Only trick or treat at houses with outdoor lights on
Make sure all costume accessories are safe and flexible (no sharp or pointy edges)
Walk on the sidewalk and cross streets only at corners
Walk, do not run!
Never go into a home or apartment building without an adult
Carry a flashlight
NEVER GET IN A STRANGER'S CAR!
When kids get home, have an adult check all the candy to make sure it is safe and hasn't been tampered with.  Discard anything questionable.  Better Safe than Sorry!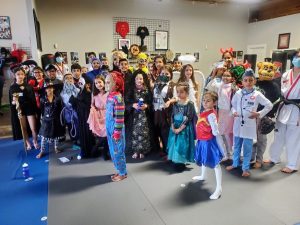 Chief Master Nominee Scott Karpiuk
8th Degree Black Belt
Newton Black Belt Academy Director