ATA's highest ranking Master Instructor in Canada!
Newton Black Belt Academy has ATA's highest ranking Master Instructor in Canada!
On Saturday Sept. 17th, Sr. Master Scott Karpiuk was presented with his 8th Degree Black Belt by some of his instructors and students.  Master Karpiuk tested this past July in Phoenix Arizona at ATA's World Championships.  He performed his testing in front of several ATA Grand Masters and a host of other high-ranking masters from all over the world.  He is ATA's highest ranking Master Instructor in Canada!
Master Karpiuk began his martial arts training in 1984 in Springfield Missouri while attending Bible College.  (One of the reasons for his start in martial arts was that he was bullied in school.)  Upon moving back in 1991, he immediately started several clubs in N. Delta, Surrey and at Trinity Western University.  For the past 31 years he has trained thousands of students and tested hundreds to the rank of Black Belt.  Many of those Black Belts eventually became instructors and started their own clubs and schools across Canada.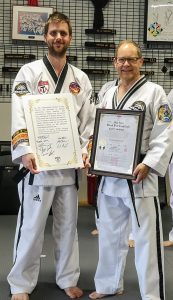 Sr. Master Karpiuk has several 7th, 6th, 5th, and 4th Degree Black Belt students and Master Instructors that continue to push him on his journey of faith and martial arts.  He continues to lead by example every week as he teaches at the Academy, guiding students to have better focus, confidence and discipline.
Submitted by:
Mr. Bruce McCann
4th Degree Black Belt, Academy Staff Member
ATA is the world's largest martial arts headquartered in Little Rock Arkansas with schools all over the world.
Call Now to Register for a FREE Week of Karate for Kids, Tigers or Teen/Adult classes.
"I originally started my Martial Arts training with Master Karpiuk to support my daughter, Lauren, in her Taekwondo classes and also to learn self defense techniques. What started as a 3-month experiment became an incredible 3-year journey that has led to many rewards including fitness, increased self-awareness, confidence and new friendships." – Winston T